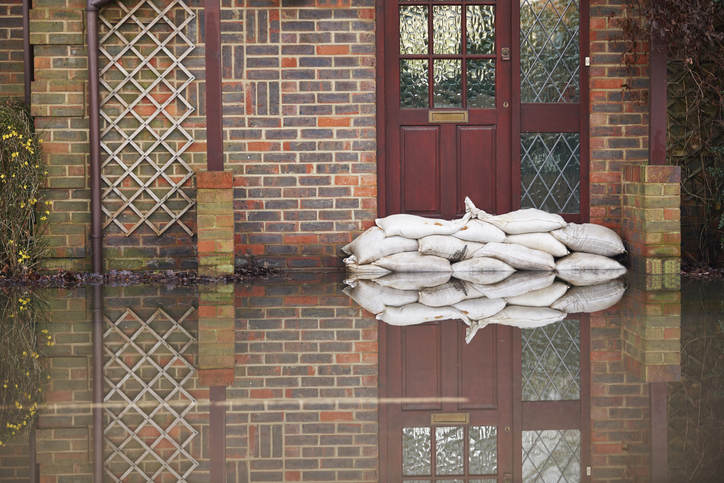 How to mitigate flood damage
As the UK's weather patterns become more erratic, flooding is affecting increasing numbers of homeowners throughout the country.

Flood experts estimate that if your property is situated in a flood risk area, you are 30% more likely to experience flooding, the consequences of which can be disastrous, both emotionally and financially.

However, with a bit of foresight and planning, you can effectively protect your home from floods and minimise the amount of damage that flooding may cause.

Make sure you are covered
Your buildings and contents insurance will offer cover in the event of flood damage. The cost of everything from drying out, repairing and restoring, to removing debris and legal fees should be included in your home insurance policy.

When looking for an insurance policy that includes all of these features there are a few things you can do to help the process. If you are in a high risk flood area then try to contact an insurance company that specialises in flood risk cover.

Contacting a wide range of insurers will give you a variety of prices to pick from, and an overview of the types of cover that are available. You can also invest in a flood mitigation survey, which will help you pinpoint what to do to reduce your exposure to flooding, and present your risk profile to insurers in the best possible light, which could reduce your premium.

For more information about making a flood insurance claim, read our full guide here https://www.morganclark.co.uk/guide-residential-flood.html.

Preventative measures
With a little foresight and preparation, you can make sure your property is well-equipped in the event of a flood.

Having a flood plan in place will help to minimise potential damage and hopefully allow you to get back into your property as soon as possible. This should contain all the information needed during an emergency, such as contact numbers of your insurance company, utility suppliers and Loss Assessors.

Keep your flood plan in a safe and disaster-proof place (as well as in a waterproof document holder) along with any critical documentation like your insurance policy and important financial and legal documents.

Practical methods and products to reduce flood damage
Contingency planning is all well and good but homeowners who are in known flood-risk areas will want to take practical steps towards minimising the damage caused by flooding.

There are many products on the market which can help prevent and protect a property from flood damage. Products approved by the British Standards Institution (BSI) are the most reliable, and tend to be widely available.

Flood barriers make a watertight seal across doors or windows and are easy to fit. The metal or plastic board slides into a frame that you can install prior to flood warnings.
Airbrick covers are plastic covers that prevent water entering your premises. Airbricks can be pre-fitted with a frame that the plastic clips to.
Flood skirts are a more expensive but more advanced system of flood protection. Protecting your property on the foundation level, the flood skirt is made of water resistant sheeting which protects the bottom two to three feet.
Blocking entry points for the water with sandbags is a cheaper alternative to some of the above products. Sandbags can also be put into a toilet bowl to prevent sewage from overflowing into bathrooms. They are available from DIY shops or can be provided by local authorities, but please note, they are not under any obligation to provide them. Bin bags, pillowcases or carrier bags filled with soil or sand will do just as good a job if you are unable to get hold of any sandbags.
Sturdy plastic sacks such as heavy duty bin liners can be put around the base of tables and chairs.
Pallets – where higher level storage is not available, pallets can be used to lift items off floor level.
Plywood and other wood can be used to board up windows and doors – it's not always the flood water itself that does the damage but if larger items are being carried by the water they can break glass in windows and cause other damage.
Heavy duty plastic sheeting can be used in conjunction with sandbags.
It is also useful to familiarise yourself with how to shut off the essentials in your home too. If you have gas, water and electricity, knowing how to turn them off may come in handy when faced with rising flood water.

Checking https://www.gov.uk/browse/environment-countryside/flooding-extreme-weather will help you keep an eye on the weather and the water levels of nearby rivers which might be liable to flooding.

By combining practical steps with the implementation of a flood plan, you can protect your home from the impact of a flood to the best of your ability.